Category Archive : ACORN Dominican Republic
Member organizations of Community Organizations International (formally ACORN International) launched a grassroots campaign to reform the global remittance market today with coordinated actions in cities across India, Peru, Argentina, Mexico, Canada, Dominican Republic, Kenya, Korea, the Philippines and Indonesia.
The targets of the actions; Scotia Bank, HSBC, Western Union, MoneyGram and the Reserve Bank of India are major players in the global remittance market that in 2008 topped $300 Billion.
Community Organizations International is calling these corporations to commit to meetings with our leadership in the coming weeks to discuss proposals to reduce costs and improve the flow of remittances to the developing world.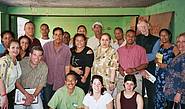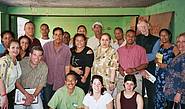 ACORN Dominican Republic was formed in the wake of tropical storm Noelle, which hit the DR in October of 2007. This birth of ACORN Dominican Republic was also catalyzed in part by the emergency relief efforts in wake of tropical storm Noelle. ACORN DR organized initial recovery efforts, which included mobilizing Dominicans living in the US to donate clothing and other supplies to the victims of the storm.
In spite of this rough start ACORN DR has blossomed. Since the strom we have expanded to Los Salados Viejos, Los Salados Nuevos and Vuelta Larga. In just a few months, our membership base has grown to over 700 people from low-income neighborhoods in Santiago de los Caballeros. Thus far we have conducted several successful public health campaigns, collectively removing over 40 tons of trash, winning a bi-weekly trash pick up service from the municipality, and working with the public health ministry to eradicate rats and conduct trainings around important home sanitation issues. Then, during the 2008 presidential elections, we partnered with Participción Cuidadana (a non-partisan civic participation group with whom the American Dominican Council collaborated during the 2004 presidential elections) to monitor voting spots and ensure the transparency of election results.
Our Chapter in the Dominican Republic came out of an initiative of Dominican ACORN members from New York City, whose positive experience of ACORN in the States (and intimate connection with their families and friends in the DR) lead them to explore the possibility of opening up an ACORN branch back home. They formed the ACORN Dominican Council (ADC), which made two trips to the Dominican Republic to meet with community and labor organizations and to the groundwork for ACORN's future efforts in the country. After several years of exchange—and a successful bi-national campaign to allow Dominicans living abroad to vote from abroad for the first time in 2004.
---