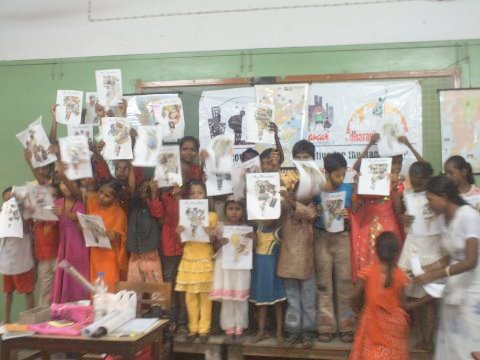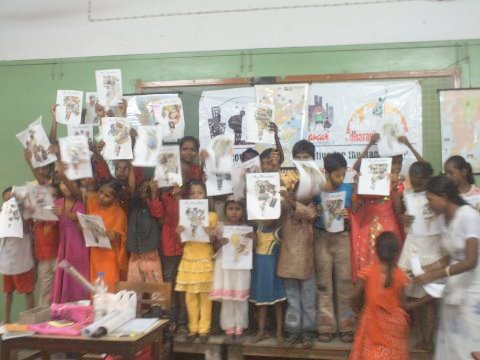 The Acorn Dharavi Project conducted a successful workshop for children of members living in the Rag pickers communities in Dharavi on 13th december, 2009. The workshop was conducted by a visiting volunteer Ekaterina Nikolova ( Katya) who used a mix of theatre, craft, games , physical activity, drawing , art and various other teaching techniques to make the children laugh, cry , shout ,learn and unlearn about their city and Dharavi.
The three hour workshop was attended by 35 students, and acorn committee members Anil, Vinod, Rafiq, Lakshmi, Sabya, Sangita, Kamble Moushi, and Fatima who assisted  Katya. What is remarkable was that Katya was able to communicate with the children despite speaking very little Hindi, and the kids knew very little English.
The workshop started with a introduction of all the kids to each other where they learnt their names, by shouting it out loud for all to hear, there itself the ice was broken when they all held hands and learnt their own names.
This followed by a theatre session, where the children played various synchronised games i.e clapping, tom and Jerry, blind cat, 
Hawa
 chali and role reversal games. All these games were conducted in the open ground of the Xavier Institute where the workshop was conducted.
The next session was the Art class which involved the children doing a collage of "My Mumbai" with waste paper, the children could not 
believe 
their eyes that they had made the collages themselves, their smiles say it all.This followed with a small lecture in E
nglish
 and hindi on global warming by Katya and Vinod, Recycling and the role of their parents in Rag picking and waste segregation. They also participated in a discussion on what problems that Dharavi was facing and the children came up with the burning issues i.e water, housing , electricity, schools, colleges, health etc,
Finally the entire group participated in a group drawing of " My life in  
Dharavi
" , each group consisted of 5-6 children and they drew to their hearts content using crayons, and felt pens and plastic waste from segregation units in Dharavi which they were familiar with.
The workshop ended with some impromptu dancing and singing and after a few snacks and drinks the students received their passing out gifts from Katya teacher, the kids said their goodbyes and headed 
back
 to Dharavi to their waiting mothers and fathers to report on their magical day at the acorn workshop , before leaving one small girl with crayon marks on her face asked when the next class would take place.